Project Log: Sunday, December 11, 2011

After final preparations to the mating surfaces, I applied polyurethane adhesive to the two cherry panels in the dinette and galley, and propped them tightly into position in their respective spaces. I used a tube of mahogany-colored adhesive that I had leftover from some project, which was enough to secure these two panels.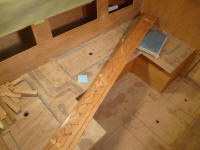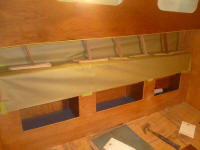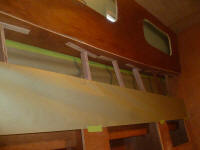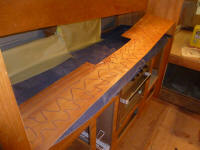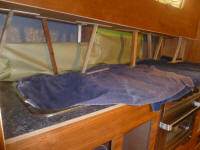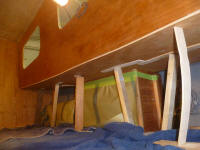 Since this was regular-cure 5200, I planned to leave the panels wedged as is for several days, till the adhesive cured sufficiently. I had more fast-cure on order for the remaining paneling in the pilothouse and elsewhere.

Using the marks I made yesterday, I cut out the window openings in the pilothouse paneling, and test-fit all the panels once more, held loosely with a single clamp on each panel.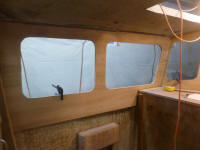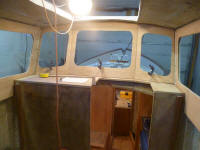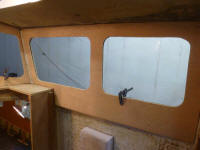 Previously, when I installed the panels on the cabin sides in the main cabin, I'd cut the window openings undersized with a saw, then trimmed them to final shape with a router once the panels were glued in place. While this worked well in that instance, the clearances around the pilothouse windows were too small to allow easy use of a router, so I simply cut right to the line with the saw; the window openings in the fiberglass weren't exactly precision-machined to begin with, so this approach saved time and was of ample accuracy.

Satisfied with the fit of the panels, I removed them for a light sanding before epoxy-coating the backs of the panels and seal-varnishing the exposed surface.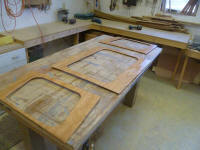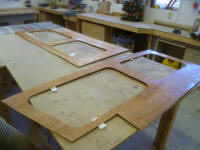 I hoped to purchase a custom replacement window for the center of the pilothouse; the original featured a drop-down glass panel that didn't function well and didn't look very watertight. I took some measurements so I could begin to research the project and obtain quotes. Similarly, I measured the door opening from the cockpit, as I also hoped to purchase an aluminum sliding door to replace the old wooden one.

---
Total Time Today: 3.25 hours
< Previous | Next >