Project Log: Wednesday, January 12, 2011

With a little time available at the end of the day, I decided to sand the recently-repaired caprail and bulwark trim pieces. Each of the pieces required varying levels of sanding to remove protruding bungs and to smooth away excess epoxy from the crack filling and other repairs.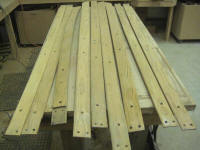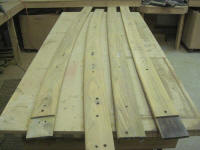 This brought all the trim (other than the pieces of caprail still on the boat--which I planned to remove soon) to the same level of readiness for additional sanding steps ahead, namely working through the grits to smooth and clean up the pieces to prepare them for the initial coats of varnish.
---
Total Time Today: .75 hours
< Previous | Next >