Project Log: Friday, July 15, 2011

After vacuuming and otherwise preparing the area, I applied a coat of paint to the lockers beneath the new dinette, as well as the bottoms of the dinette platform hatches and around the hatch openings themselves. Eventually, much later in the construction process, I'd paint the tops of the platforms and hatches, but liked to get the undersides done now.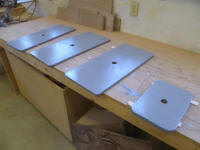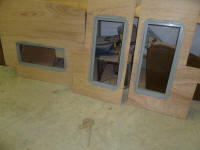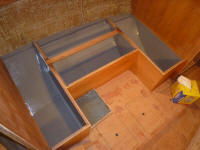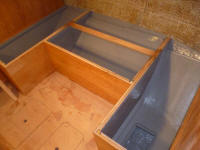 I'd optimistically hoped to install the platform later in the day, but some of the paint within the lockers was still tacky enough that I decided against it, lest I litter the fresh paint with drill spoils and the like. Installation could wait till another day.

Instead, I spent the balance of the day on various research projects, part of what seemed to be a fairly extensive period of equipment and systems research, as I attempted to plan ahead sufficiently for several of the larger onboard systems: heat, engine, and cooking. I had a lot to learn about onboard heating systems in particular.

In that vein, I removed the engine template from the boat so I could double-check all my measurements. The measurements were accurate, and the template a fair representation of the measured engine drawing, so clearly I'd need to make some combination of engine foundation modifications and custom engine mounts to ensure the engine would fit properly. My early plan included raising the existing engine foundation tops by an inch or two, which I could accomplish easily and effectively while also improving the existing foundations' strength, with the balance of the additional height to be made up by custom mounting flanges from Beta Marine.

---
Total Time Today: 4 hours
< Previous | Next >