Project Log: Wednesday, March 16, 2011

With most of an afternoon available, it seemed a good time to remove the clamps and braces from the cabin sides, now that the adhesive had had several days to fully cure.

Once I'd cleared away the clamps and clutter, I used a router equipped with a bearing-guided straight bit to trim the excess plywood from the insides of the port openings. Don't blame me if the openings look ragged: the cut openings in the fiberglass were ragged, and the router only followed the existing contours. Of course this didn't matter since the ports would hide the edges anyway.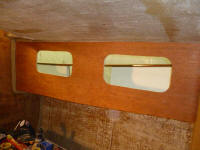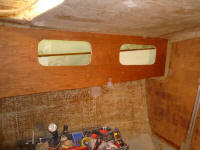 Before repeating the overall process in the forward cabin, I took a moment to saw away the excess cured foam from above the level of the water tank.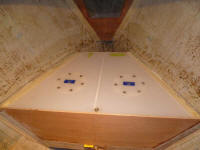 I made paper patterns of the cabin trunk sides in the forward cabin, just as I'd done in the main cabin last weekend, drawing a 2" offset tracing onto the paper with a scribe and 2" wide straight rule where possible.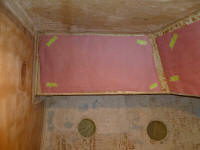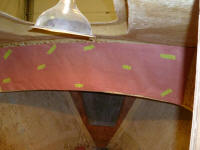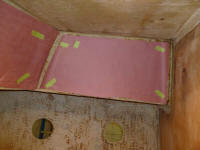 I transferred the patterns to a sheet of 1/4" cherry plywood and cut the pieces out. Because of the size and contours of the radiused corner between the cabin trunk sides and its leading edge, it wasn't possible for the plywood to conform to such a tight, small radius, so I needed to trim an inch off each side of the forward piece. This would leave a gap between the sides and forward piece that I'd later cover with trim in a traditional way.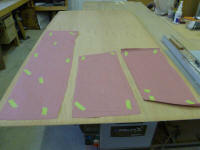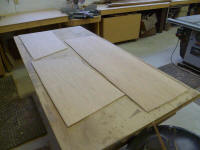 Unfortunately, I ran out of available time, so although I'd hoped to be able to cut the rough port openings in the sides and epoxy/varnish coat the plywood, I had to leave those steps for the next time.

---
Total Time Today: 2.5 hours
< Previous | Next >