Project Log: Sunday, March 4, 2012

In order to install and support the compass binnacle in my chosen centerline location, I needed a short extension over the corner of the companionway opening. With the binnacle in its place (note that the port edge of the companionway opening is actually the boat's centerline), I cut a oversized rectangular piece of plywood to fill the corner and then scribed a line to match the shape of the binnacle, but 1/2" further out. I cut the curve and tested the fit; to support the corner block now and during its final installation, I hot-glued a couple paint sticks across the opening beneath.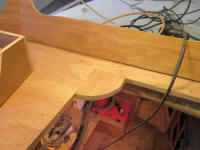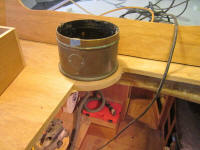 After a long period of internal debate extending far beyond the reaches of my memory, I'd eventually settled on cherry for the final surface of the flat dashboard. Completing the black-finished helm console had cemented the decision for me; I'd been considering using more of the matte black material for the dash, but decided it would be too much. I liked it for the control area, but to use more would have moved away from the look I was going for. So I created a basic paper pattern of the dash area, and used it to cut the top surface from 1/4" cherry plywood.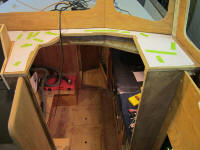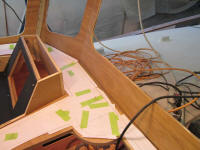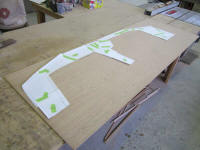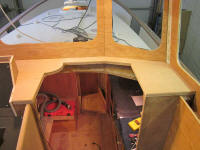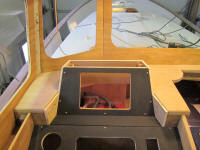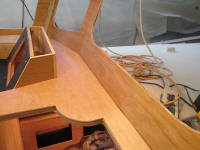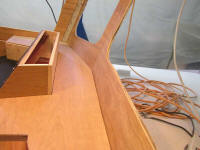 To install the "veneer", I applied epoxy adhesive with a small notched squeegee, then weighted and clamped the plywood down from the top. I used more of the adhesive to secure the compass corner block in place; the veneer plywood above would help hold it, and eventually there'd be additional support from below as well.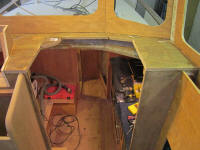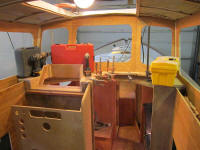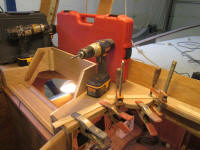 Next, I cut four small pieces of black Kydex to fill in several small areas of the helm console. (Actually, I did this before gluing the new dash top in place, as I wanted to remove the console surfaces to keep them out of harm's way.) I'd install these pieces permanently later, along with the requisite trim around the edges; I'd needed to complete the dash before I could turn to the trim, however.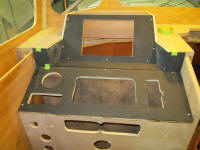 It was a good time to finish off the engine room painting. It'd been a couple weeks since I installed the final through hulls and glassed the bottom of the mizzen mast A-frame, so after lightly sanding the A-frame tabbing to smooth any rough edges, I cleaned up the area, masked around the through hulls stuffing box assembly, and painted the after sections of the engine room, plus the area around the depthsounder transducer forward.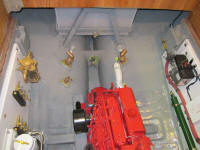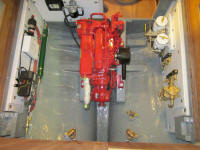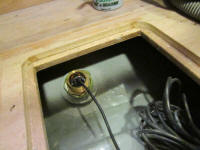 ---
Total Time Today: 4 hours
< Previous | Next >