Project Log: Sunday, September 9, 2012

After various considerations, I decided to mount the broadband sounder module outboard of the steering console in the port utility space. There was room on the back side of the longitudinal bulkhead, and this location would be convenient for cable connection and runs to their required locations (3 cables: transducer; Ethernet (network); and power). Access to the module was not something that was required other than initial connections.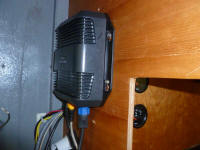 I ran the transducer cable up through the dinette cabinet, into the engine room, and through the console to the space around the sounder module, lining the large holes required with lengths of chafe-reducing hose. I connected the Ethernet cable to the back of the display unit, ran the power cable into the console for later connection, and secured the remainder of the transducer cable out of the way beneath the cabin sole.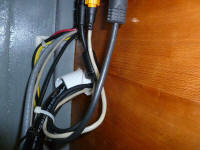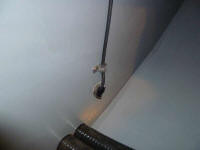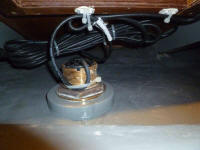 Adding a three-conductor wire to the Ethernet cable and SimNet cable leading aft to the general area of the mizzen mast step, I continued the cables' runs aft, extending them through the port utility space outboard of the engine room, through a couple lengths of hose for protection, and eventually to the center part of the engine room, beneath the mizzen mast step. This torturous journey was easier to write about than to complete, but I finally managed to get the cables through.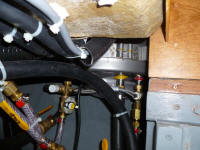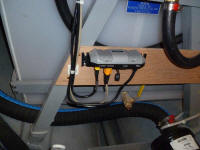 Once the cables were in place final connections were straightforward. after installing a wooden mounting plate, I secured the radar interface box, then plugged in the Ethernet and SimNet cables, and made up the three-wire connection with the attached power supply wire. Much later, a cable from the radome itself would also be secured to this box. The box was well out of the way where it was, but I thought I might add a cover around the box for a little extra protection.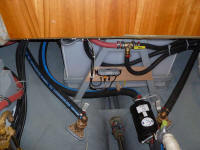 I had a mass of wires to deal with in the console, and wrapped up the day by sorting them and creating routes for the wires down to the bottom half of the console for eventual final connections. I separated the duplex sheathed electrical wires from the cables related to the electronics and navigation gear, and led the large bundle down the starboard side of the console; sometime later I'd begin the process of separating the wires and making up the final connections.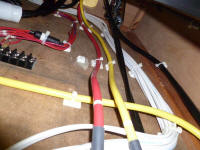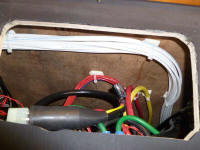 The various electronics would each require a protective fuse in addition to the circuit breakers, so to this end I installed a standard fuse block, through which I'd run the applicable wires. The main display wiring would also incorporate some common wires to allow various things, like the radar and the sounder, to turn on automatically when the main display is powered up, and to create the common leads I installed a small terminal bloc. I'd continue these connections later.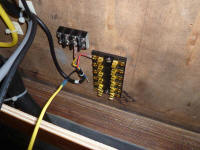 ---
Total Time Today: 5.5 hours
< Previous | Next >