Project Log: Saturday, December 21, 2013

Next on the agenda was to paint the hull, a big enough job in and of itself, but relatively straightforward compared to the complicated deck.

To begin, I masked off the freeing port openings in the bulwarks, this time from the inside to protect the newly-painted decks from hull overspray.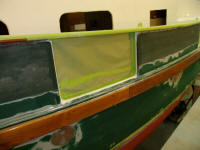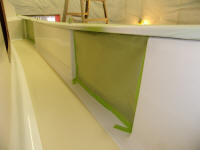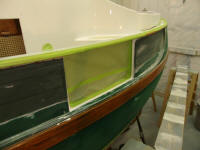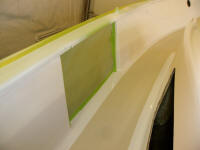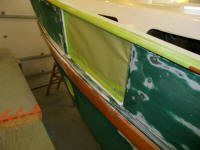 Then, I draped the decks in plastic sheeting, and masked it securely all along the caprail, and masked off any other areas around and beneath the caprails, along with the anchor rollers and stem casting.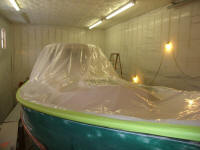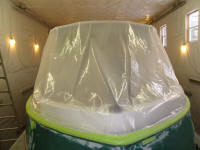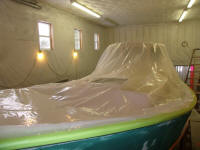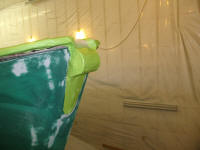 Next, I reset the staging at hull height, leaving the forward sections higher to allow me to reach all areas. Once that was done, I vacuumed and solvent-washed the hull before continuing the masking work, as the hull was coated with dust after the deck work and in the years since I'd actually last worked on the hull.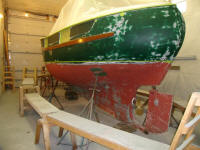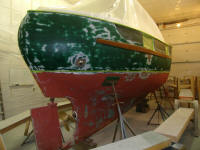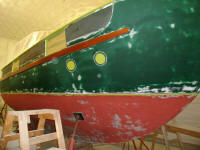 This view of the hull from the bow always reminded me of a photo of the original Queen Mary in drydock that was in a book I had when I was a kid.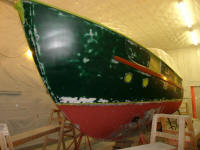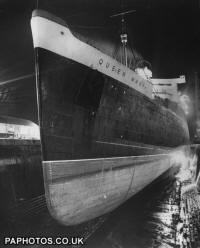 I'd already struck and masked off the waterline much earlier, when I moved the boat for painting, so the remaining masking was straightforward. I added a strip of masking paper to protect the bottom from overspray, and wrapped up the teak rubrails and three through hull fittings (engine exhaust and diesel boiler exhaust and intake fittings), bringing the major preparation work to a close.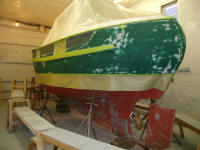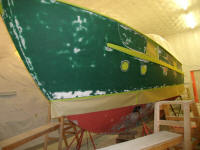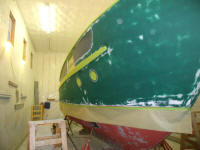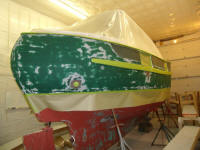 Next: final preparations and high-build primer.

---
Total Time Today: 5.5 hours
< Previous | Next >