Project Log: Friday, April 4, 2014

After a light sanding, I applied another coat of gloss varnish to the back side of the head door. I also sanded the door frame itself, but didn't get back to varnish it before I had to leave for the day.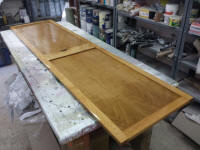 Next on the agenda was to get going on the final connections for the head and sanitation system, beginning with the plumbing. I'd collected a variety of fittings and plugs that I'd require to complete the task. To recap, since it's been some time since I last discussed the system, recall that this is the Raritan Hold 'n' Treat system, incorporating a 15 gallon holding tank and salt water-based waste treatment plant with automatic or manual operation. I'd installed the self-contained system in its space during an earlier stage of the project.

First in line was the discharge elbow for the treatment unit. A PVC elbow with one smooth and one threaded side was supplied with the kit for this purpose, but I'd needed to buy a threaded pipe-hose connector in order to attach it to the flexible discharge hose. After installing the adapter, I dry-fit the elbow so I could mark, and then drill, the adjacent bulkhead to allow passage of the hose.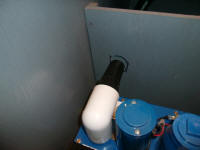 Afterwards, I prepared a short length of hose to pass through the bulkhead; the other end of the hose connected to a joker valve (check valve), which was supplied with the kit, and was designed to prevent cycling of the discharge (macerator) pump.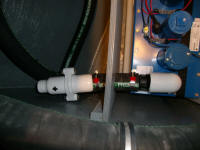 From here, I'd connect to the hose that led directly overboard, but I'd forgotten to purchase a siphon break; with the whole system perhaps barely at the waterline, this would be a prudent installation. Fortunately, my appointment later in the day would take me near my supplier, so I'd be able to pick up the device and continue working later in the weekend.

Meanwhile, I installed threaded PVC plugs on all the unneeded ports provided in the holding tank, and installed an inlet elbow and bushing with vent fitting in the two ports needed for my installation, then connected the discharge line from the head itself, and a new vent hose, which I ran into the locker outboard of the head compartment.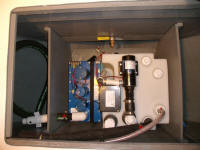 To complete the vent, I installed a typical screened vent fitting through the hull, and connected the hose within.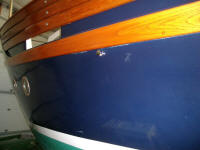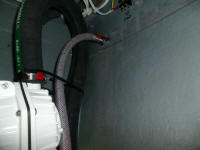 That was all the time I had for now, but I'd continue forthwith.
---
Total Time Today: 2.5 hours
< Previous | Next >