Project Log: Sunday, March 9, 2014

Before I let it go too long, it was time to get back to the bulwarks varnish, so I started the day sanding, vacuuming, and solvent-washing the rubrails and bulwarks.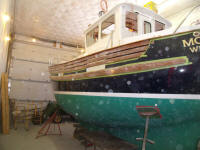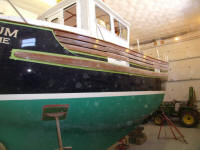 Note to self: when, as happens from time to time, the sanding block gets hung up and twisted from the hand, resist the instinctual urge to arrest its fall by grabbing it against the hull (sandpaper side in) on its way down.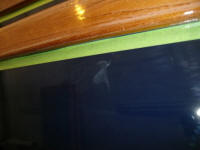 Looking for a simple project to fill a little remaining time in the morning, I decided to install the new stanchion tops that I'd purchased to replace the broken plastic ones. With a cutoff wheel in a grinder, I removed the plastic tops down to the level of the metal stanchion tubes, leaving the remaining plug in place. This was an interesting process, as the plastic melted far more than I'd expected, or even anticipated, spewing very hot molten bits around until I learned how better to manage the cutting process. The cutting also created web-like strands of plastic. I'd expected cleaner, easier cuts, but the plastic was softer than expected. In any event, once I learned how it reacted, it was easy to complete all eight stanchions.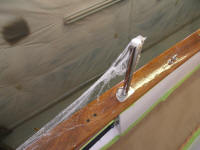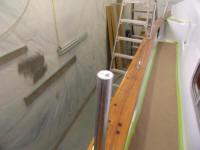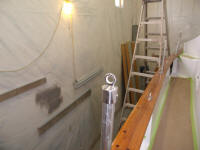 With all the old tops removed and flush, I installed the new stainless tops, which were secured with setscrews over the tops of the stanchions.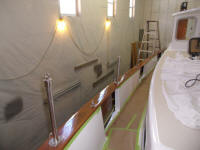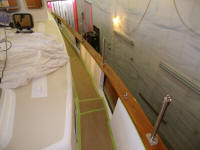 In the afternoon, I applied varnish to the bulwarks and rubrails.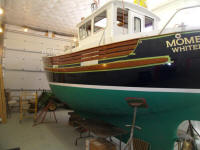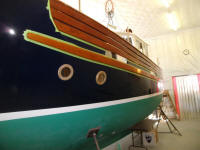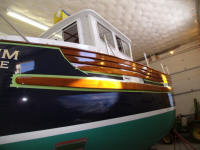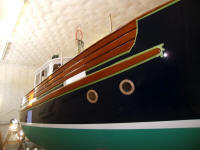 ---
Total Time Today: 4.5 hours
< Previous | Next >