Project Log: Thursday, May 21, 2015

The owner suggested we install a permanent valve in the water pump intake line to allow not only for possible priming functions in the future, but also to allow for easy and convenient introduction of antifreeze for the winter. I thought this was a great idea and ordered the parts required, so with this decision and the minor delay while awaiting the new parts, I deferred any further work on the water pump for the moment.

Meanwhile, I strove to knock off any final items from my work list, other than the last steps of the windlass installation, for which we were still awaiting parts. We were quite disappointed in the performance of the windlass manufacturer in this regard, after several promises on their behalf to actually ship various parts they purported to have in stock over the past two weeks, none of which had been fulfilled, then only to find out that certain items that had supposedly been in stock were also backordered, further delaying the whole process--a frustrating performance on their part from our perspective, and unnecessary. So this last important item would languish on the unfinished list a little longer.

In the cockpit, I installed a new hasp and reinstalled the little door over the old propane locker.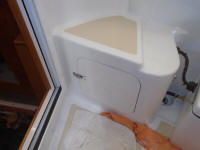 The owner supplied a pair of stainless tubular handrails for the aft end of the pilothouse, which I installed with bolts, large washers, and sealant. The length of the handrails, and the position of longitudinal bulkheads within the pilothouse, forced the rails a little further towards centerline than I'd imagined in my mind's eye, but they were excellent additions for assisting the somewhat awkward passage between cockpit and sidedecks (and, in the shop, to the nearby ladder).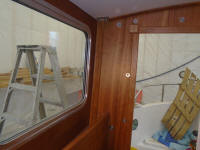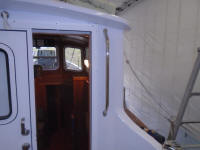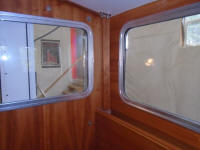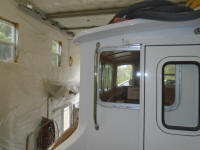 With just about everything up and running and otherwise complete, the final punch list before launch time in a few weeks had been pared down to the bare minimum--and, frankly, nothing on the list would prevent launching or basic use.

Complete windlass installation (includes installing new electric windlass motor and 5/16" wildcat, plus solenoid switch, helm switch, and breaker panel)

Get potable water system up and running and address existing issues

Awaiting new roller furler installation, halyards, and other rigging work (subcontracted and underway)

Install propane tank, finish solenoid wiring, and test galley stove

Fill, bleed, and test hydronic heating system
---
Total Time Today: 2 Hours
< Previous | Next >