Project Log: Sunday, February 20, 2011

Now that the second portion of the forward pilothouse sole support beam was glued and cured, I finalized the installation by securing it to the beam already in place, using epoxy and bronze screws.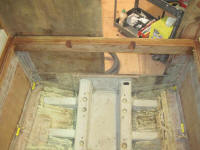 Temporarily clamping together the sections of the removable aft beam, I set the beam in position in the newly-installed support blocks; early in the day I'd washed and sanded the new fiberglass securing these blocks.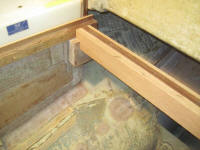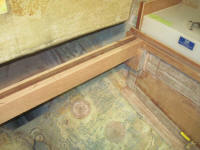 Using a long T-square in line with the edges of the notches in the forward beam, I transferred their position to the after beam and made some marks, after which I cut the notches, replaced the clamped-together beam, and cut and fit the two longitudinal support beams in the notches.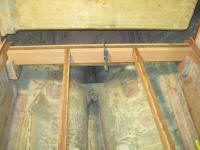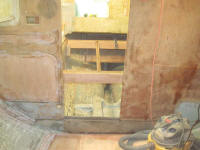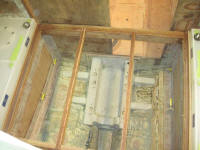 This completed the essential support structure for the pilothouse sole. I removed the aft beam down to the bench and laminated the remaining sections of plywood together, completing its construction, and set it aside to cure.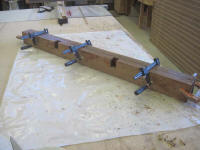 For the immediate future, I planned to temporarily lay some of the old pilothouse plywood sole sections in place until I could acquire the new material needed for the final job. The temporary sections would mean that I could walk and work in the pilothouse comfortably and continue construction as need be.

The latest stretch of work on major surface preparations, tankage, and structural underpinnings brought to an end, in my mind, the second phase of the project. There remained some basic interior structural work in order to install the forward water tank, and the final installation of the centerline fuel tank was still ahead, but the focus of work going forward would change somewhat as I turned my attention to the cockpit--where I planned to build some enclosed lockers--and final exterior preparations required before considering primer application.

Meanwhile, interior work on basic layout and cabinetry could begin, now that the soles and basic supports were in place.

Click here for a summary of Phase II.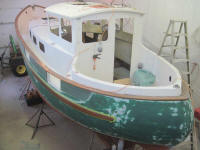 ---
Total Time Today: 3.25 hours
< Previous | Next >