Project Log: Monday, January 24, 2011

Over the weekend, I'd managed one additional coat of varnish on the bottom sides of the caprails. To continue the process, I sanded once more and, late in the day, applied what would be the last coat of varnish on the bottom sides.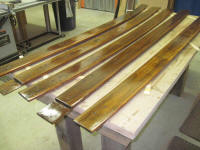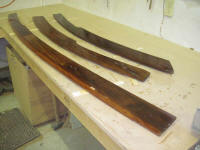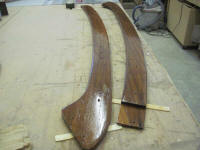 I washed and sanded the epoxy filler I'd applied to the tops of the bulwarks, which completed the prep work I needed to accomplish there before reinstalling the caprails when their preliminary varnish work was done.

While I was in sanding mode, and since I'd been meaning to do it for some time, I spent most of the remainder of the day working on the rubrails--the teak boards secured to the hull just below the bulwarks. After much consideration, I'd decided to leave these in place, so I stripped them of their old finish and sanded them smooth with a couple different tools and by hand, ending up at the habitual 220 grit.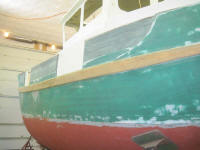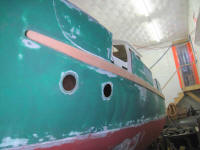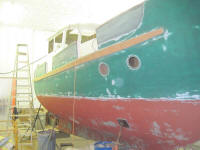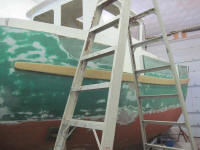 After solvent-washing the now-bare teak (and, while I was at it, the topsides as well, which were still coated with green dust from my earlier hull sanding efforts), I masked off the rubrails and applied a sealer coat of varnish. I'd continue over the next several days with additional coats to begin the varnish buildup and to ensure the wood would be protected well through other steps of the construction.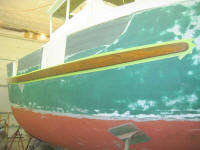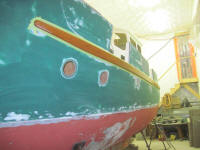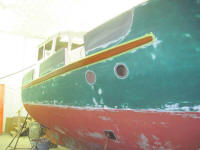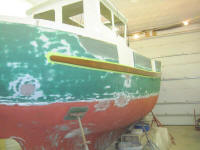 Varnish work seemed an odd interlude at this particular stage of the project, but beyond the need to protect and color-stabilize the newly-stripped rubrails, it made sense since there was little else I could do inside the boat while I awaited the final installation of the caprails and some of the related hardware before moving on with the new construction and tankage in the engine room.

Besides, I'd been growing weary of the nasty old finish and weathered appearance of the rubrails.

---
Total Time Today: 5.25 hours
< Previous | Next >