Project Log: Thursday, January 27, 2011

Equipped with a new-day attitude and impressive mental fortitude, plus a new approach to the problem--and some slightly-elongated holes--I managed to install the nuts on the starboard forward U-bolt that I'd had difficulty with yesterday.

Although I cleaned up the excess sealant around the U-bolts and fasteners, any squeezeout beneath the edges of the caprail I left alone for now, as cleanup would be easier once the sealant solidified.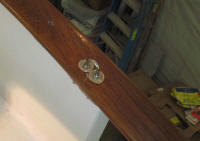 With only a couple tubes of sealant still on hand--and with low expectations for how much usable product I'd be able to extract from them--I knew I'd not be able to complete the installation of the port caprail. Planning ahead, I ordered more sealant from a different supplier, hoping that the partially-cured tubes I'd been fighting with were the result of bad inventory management at the original supplier, not a core manufacturing problem. In any event, I ordered more than I'd need to complete the job later.

With the sealant on hand, I managed to install three of the five sections of port caprail.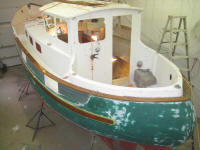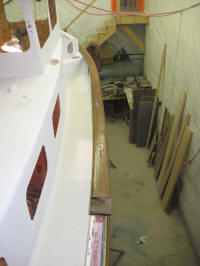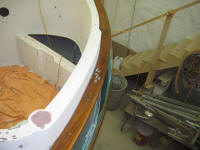 The starboard bulkhead at the forward end of the pilothouse featured some large openings left over from the original boat's configuration. Since I'd eliminated the old quarterberth, and the chart-storage slot above it, I needed to fill these holes. The exposed portions of the bulkhead would later be covered with 1/4" veneer plywood for the finished interior.

I made simple patterns of the openings on some red rosin paper, then transferred the patterns to 12mm Meranti plywood, from which I cut the filler pieces. To install the patches, I first screwed some HDPE strips to one side of the bulkhead, which would hold the plywood patches in place while the adhesive cured; the slippery plastic wouldn't stick to the adhesive.

I applied beads of epoxy adhesive to the edges of the openings, and inserted the patches, screwing them to the plastic guides as need be to hold them in the proper position. I squeegeed the adhesive clean and flush around the edges of the patches and left it to cure. Later, I'd install epoxy fillets and tabbing to secure the large patch to the hull.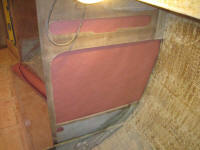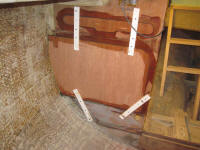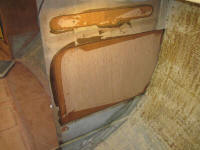 ---
Total Time Today: 5.5 hours
< Previous | Next >