Project Log: Tuesday, June 14, 2011

Over the period of a couple days, I had time to continue work on the molded fuel fill recesses, with one additional round of sanding and very minor filling to smooth a few places along the inside corners of the parts and prepare them for primer and paint.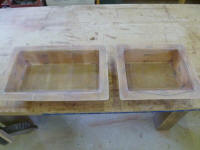 While I wouldn't install the completed pieces till sometime later in the construction process, it was a good time to prepare the large holes in the sides of the pilothouse, into which the new parts would rest. I made simple cardboard templates reflecting the outside dimensions of the mounting flange (for alignment purposes), and the shape of the cutout required for the recess.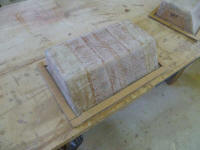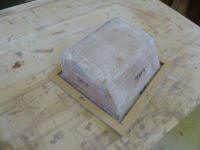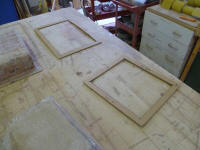 I spent some time on the boat laying out where I wanted these holes to be. After inspecting the area in question, and considering various alignment options, I decided that the top of the mounting flanges should be more or less in line with the tops of the port frames in the cabin trunk; this location happily worked out in other visual ways too.

Horizontally, I eventually decided to center each hole beneath the center stile dividing the two side windows in the pilothouse. This location also worked well with the eventual hose routing inside the boat and to the tanks beneath.

With a few critical layout marks on the boat, I taped the cardboard templates in place and obsessed about their positions for quite some time, eyeing both sides from various angles.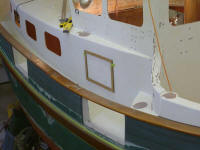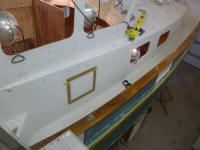 After some minutes of this, I determined that the chosen positions would work, so I traced the centers of the templates to mark the cutouts, then drilled holes at each corner to accept the saw blade and provide the requisite rounded corner to avoid undue stresses.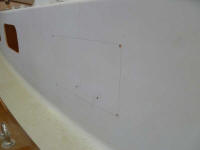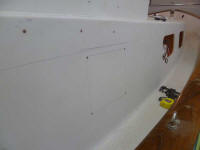 After drawing some lines between the holes on the inside of the pilothouse, I cut out the openings. It was easier to operate the saw from inside than from the narrow confines of the sidedecks; plus, the action of the saw blade in this direction didn't tend to chip the gelcoat.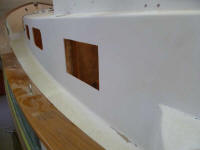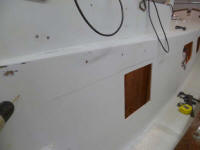 After marking and drilling fastener holes around the edges of the mounting flanges, I positioned each piece in turn and drilled and tapped for fasteners, temporarily securing the pieces in place for inspection.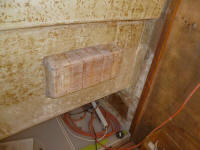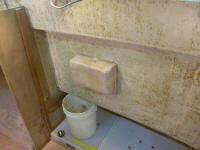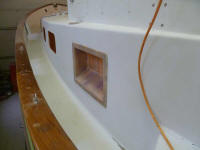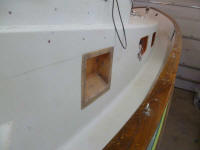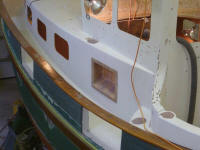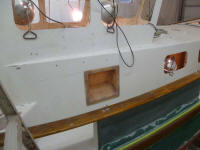 Then, I removed the pieces so I could prime and paint them to await final installation later.

Meanwhile, I removed the clamps and bracing from the new cherry veneer in the main cabin.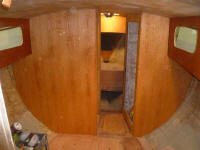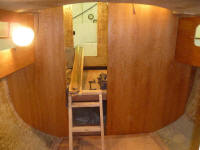 ---
Total Time Today: 4.75 hours
< Previous | Next >