Project Log: Monday, March 7, 2011

In and around some other goings-on, I found a couple hours' worth of time to continue work on the forward water tank installation.

After lightly sanding the new tabbing at the aft bulkhead, I untied the tank and allowed it to slip into its permanent position on the new platform, and snugly against the aft bulkhead.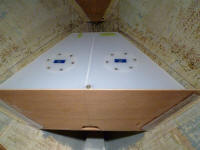 To withhold the forward end, I measured for and cut a small plywood bulkhead to rest tightly against the leading edge of the tank, and installed it permanently with epoxy fillets and tabbing. While I was at it, I added tabbing to the outside seam between the aft bulkhead and the platform beneath.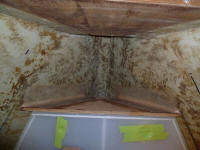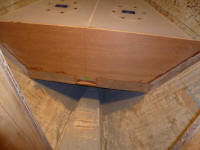 Meanwhile, I worked on a few non-specific odds and ends, product research (specifically water heaters to determine feasibility in the port aft engine room), and ordered straps and fasteners to secure the center aft fuel tank, installation of which in the near future would wrap up the main tank installations.
---
Total Time Today: 1.75 hours
< Previous | Next >