Project Log: Saturday, July 21, 2012

I finished up the installation of the autopilot rudder feedback sensor, starting by installing the now-painted fiberglass block to the plywood platform with four screws. Afterwards, I lined up the feedback sensor and connecting rod as needed, marked for screws (the base featured three slotted areas), and drilled and tapped through the fiberglass and wooden platform for machine screws to secure the sensor.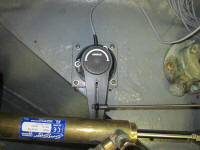 Next, I ran the cabling through a length of hose for protection, and, securing it along the way, led it over to the port side of the boat where I'd run other wires and hoses into the engine room. Sometime later, I'd make up the wiring connections for this feedback sensor and the autopilot pump.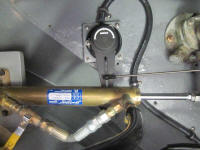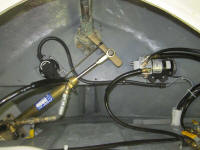 Thinking ahead to additional installations and wiring, I sorted through the various components of Simnet interface system, which would interconnect all the electronic equipment. Determining exactly what connecting cables, joiners, and other equipment I had on hand would allow me to plan for the installation and order anything else I might need in advance.

Similarly, with plans to begin reassembling the masts in the near future, I thought it was time to check the new radome against an existing radome mast mount that I had, which came with the boat and was perfectly serviceable (though it needed paint).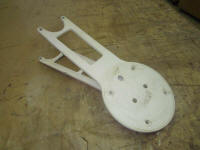 Since the old dome I'd taken off the boat long ago was 24" in diameter, I made the assumption that the new dome, which was 18" diameter, would easily fit on the old mount. While the diameter posed no problem, I presently discovered that the base footprint of the new dome was much larger than the round mounting area of the mast mount, so the mounting holes were largely outside of the mounting area.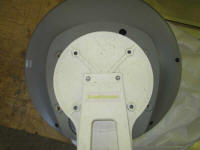 I didn't really want to buy a new mast mount, as I'd left the mounting holes in the mizzen intact when I removed the hardware for painting, planning to reinstall the mount. Some quick research located what I needed: an Edson adapter plate that featured holes for the Simrad broadband radome, as well as holes that matched the old Raytheon mast mount that I had. This was a simple fix for the problem, and I ordered the plate.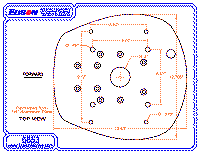 ---
Total Time Today: 2.25 hours
< Previous | Next >