Project Log: Sunday, October 7, 2012

It took quite a bit of time to fit the two forward corner trims in the pilothouse, as in both sides the trim interfered with the aluminum window frames from the forward side windows. In each case, I began with a short piece of the trim to determine the correct compound angles required at the bottom edge, where they met the dash.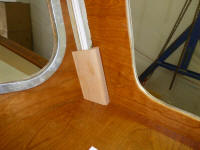 Then, with the aluminum inside trim rings temporarily clamped in place, it was simply a matter of cut and fit, test fit, cut away material that interfered with the window, test fit, and repeat. On the starboard side, the trim mostly slipped alongside the window frame, but on the port side, where the window was closer to the corner, the trim more or less overhung the frame. In these photos, the trim is loosely propped in place, leaving small gaps here and there. I'd secure it with small trim screws when the time came, since these wire chases needed to be removable.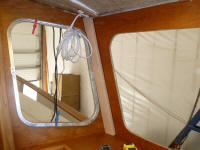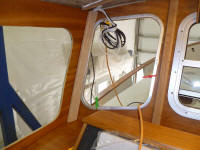 After spending a couple hours on the forward corners, I moved on to the aft corners, which fortunately were much simpler. I milled new angled trim pieces to fit in the roughly 90° corners, spanning the gap between plywood panels. At each edge, the trim returned to the bulkhead at a right angle, creating a beveled appearance.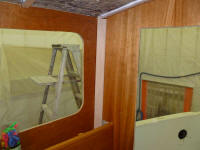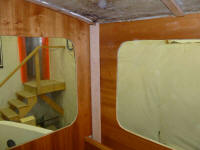 Meanwhile, I prepared several sections of quarter round trim for other areas of the pilothouse, including a special section of trim incorporating the 17.25° forward rake of the pilothouse for around the dash. To make this trim, I began with a cherry board, and, on both sides of both edges, milled 1/4" quarter round profiles with a router. Then, after thoroughly sanding the edges through 220, I trimmed off each edge on the table saw, leaving a slim piece with two rounded edges, which I then trimmed again to leave the small quarter round profile. These simple trims take a long time to make, but now I had several long pieces from which to cut my shorter lengths as needed, hopefully satisfying my quarter round needs for some time to come.

With most of the pilothouse trim pieces cut and fitted, I set them aside for the first of several coats of varnish. I'd completely finish these trim pieces before installation, since the surrounding cabinetry was already completely finished.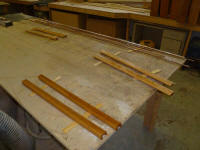 ---
Total Time Today: 4 hours
< Previous | Next >