Project Log: Sunday, December 28, 2014

Getting back to work on the overhead trim, I turned my focus to the forward cabin and hatch area. To begin, I milled one of the cherry boards I'd dimensioned a few sessions ago into 1/4" thick planks for the overhead trim--first a couple 3-1/2" wide planks to span and cover the gap around the new forward hatch coaming, then a couple more 1-1/2" wide planks for the other overhead trim. The planks were smooth, but for the moment I left the edges in their saw blade-unfinished state, since there'd be some final milling operations once I'd dry-fitted all the remaining trim.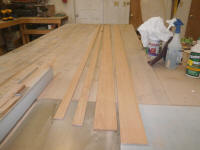 I started with the forward hatch, and cut and fit the wide planks around the base of the opening, securing them with a few screws for now (there'd be more later) and spanning the open gap between the overhead panels and the hatch coaming.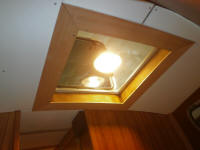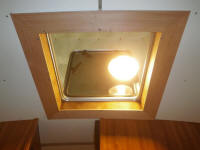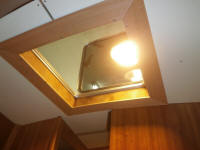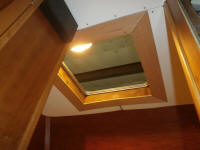 At the aft end of the space, I cut and fitted two narrower pieces of trim at the aft edges of the overhead, where it met the bulkhead.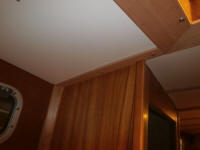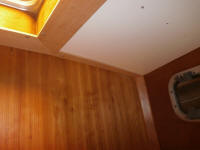 At the forward end of the passageway, I required one additional piece of the 1-1/2" wide trim to wrap up that area, where it met the wide trim from the forward cabin.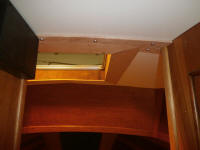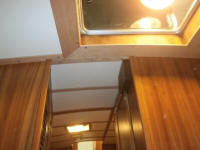 I still needed two sets of trim on this part of the overhead, to cover the screw locations holding the panels in place, but I'd deal with those another time. While none of the trims I'd installed this time were particularly difficult in execution, there was a lot of cutting and fitting required for most of the pieces, necessitating a lot of trips up and down the ladder, and I'd had enough of it for now.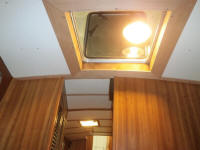 Instead, I turned to the starboard storage locker, just opposite the head, and removed the one door that was still in place after my earlier attempt to finish off this space (when I'd discovered there was supposed to be trim rimming the inside of the opening). Then, I installed the newly-refinished trim that had originally graced this space. Because I'd made no changes to the opening (other than facing the bulkhead with cherry), the trim still fit easily into place with glue and stainless brads.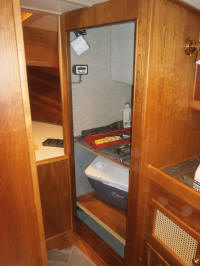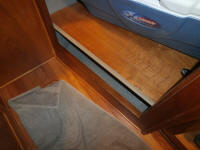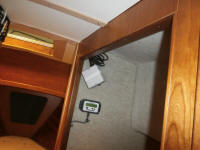 With the trim back in place, I reinstalled the two original doors. This was straightforward since I could use the original screw holes for location purposes. All I needed now was to install some simple door latches, which I'd do soon.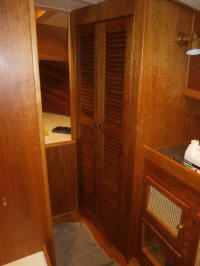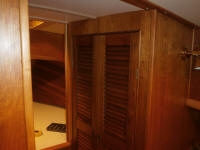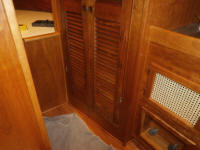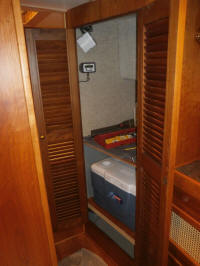 ---
Total Time Today: 3 hours
< Previous | Next >