Project Log: Thursday, November 13, 2014

Starting to port of the single plank that I'd installed last time, I quickly filled in the new cabin sole within the dinette. All the pieces were the same length, and cut square, without any fussy fitting. I had to slightly trim the final piece to width. Later, I'd add some base trim to cover the small gaps around all the edges of the sole.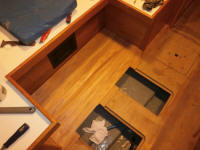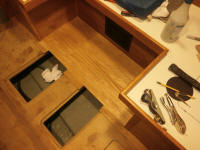 The main area of the sole went quickly, thanks to the straightforward cuts required. The several deck hatches meant that most of the planks were short, and could run wild into the hatch openings for later trimming. I cut each course of planks from a single board, including pieces for the hatches (which I labeled and set aside for later installation on the loose hatches), to maintain as much color and grain consistency as possible along each plank; however, I chose the planks themselves randomly to avoid any undesirable patterns within the sole. I installed all the planks with glue and stainless brads. The work went quickly and easily, though with many trips up and down the ladder to measure and cut each series of planks.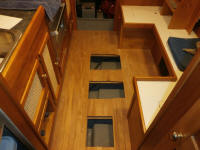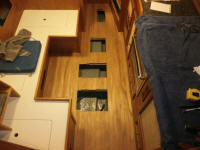 Later in the day, after attending to other business during the early afternoon, I finished up the main sole installation by trimming the wild plank ends in the hatches, using a router with a straight trimming bit. This made a huge mess, of course, which I cleaned up before knocking off.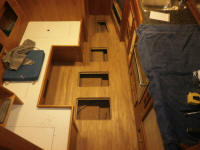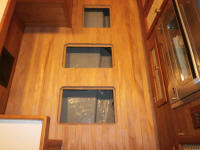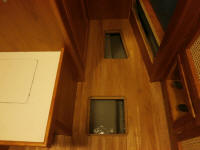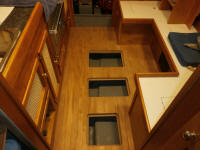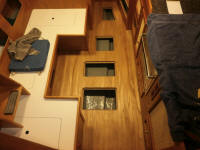 ---
Total Time Today: 5 hours
< Previous | Next >