Project Log: Saturday, November 22, 2014

I lightly sanded, vacuumed, solvent-washed, and tacked-off all the cabin sole sections--in the boat, the hatches, and the pilothouse sections, plus the trim--to prepare them for the next coat of varnish, this time a rubbed-effect satin varnish that I'd used throughout the cabin. I moved some of the pieces out of the wood shop, ostensibly so I could get some work done back there if I so chose.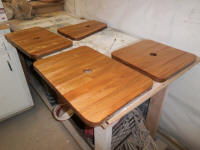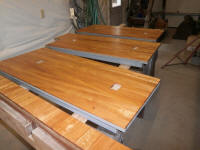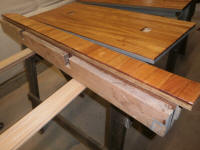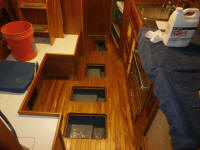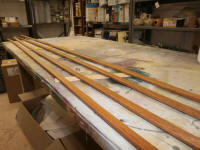 As it happened, though I made a feeble attempt later, I ultimately chose not to do much woodwork on this day. I did go through my wood supply to pull out what was a more more feeble selection of cherry than I'd hoped (and thought) I had on hand (for finishing up the remaining interior trim work), plus some mahogany left over from another project that I planned to repurpose for the forward deadlight trim.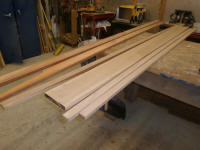 For a while I dilly-dallied around, removed the hinges from the louvered doors I planned to use for the large locker opposite the head, and thought for a while about milling cherry into the strips I needed for the overhead and hatch trim in the main cabin, but I didn't feel like sanding anything (which I needed to do before milling my one board into smaller strips), so eventually I left and did other things. I'd need to order some more cherry to wrap things up anyway, and I couldn't even go into the boat (with the wet cabin sole varnish) to measure for trim or determine the profiles needed.

My work style and overall interest in something is either "all in", or "not in at all", and on this afternoon I just wasn't in at all. But I'd accomplished what I'd really wanted, which was the cabin sole work.
---
Total Time Today: 3 hours
< Previous | Next >