Project Log: Sunday, November 23, 2014

I was pleased with the cabin sole's last (as I'd hoped during application, but didn't jinx it by saying so)coat of varnish, and was looking forward to putting the boat back together again. So after installing the new lifting hardware on the engine hatches, I reassembled the pilothouse and installed the hatches in the main cabin. Still ahead in the immediate future, I'd install the new base trim to wrap up the cabin sole completely, but this was basically done. Note that that yawning gap at the aft end of the pilothouse remains one of the last major trim details for me to complete on board, so that's not the finished look.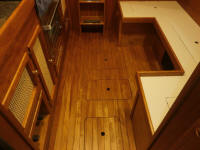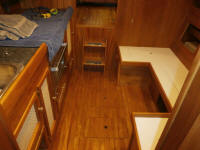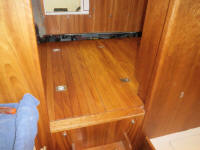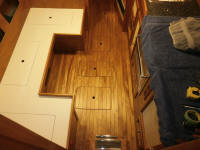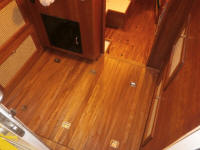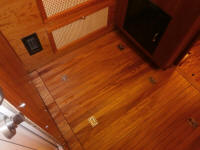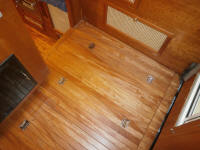 After struggling with handle-less, awkward, and increasingly heavy (with the sound insulation) hatches every time I needed access to the engine room for the past several years, I looked forward to being able to more easily lift the hatches, finally, thanks to the new hardware, and the new finished sole brought the whole interior together. I was pleased with the look and color of the Khaya grain under the soft glow of my favorite interior varnish: subtly different than the cherry, but complementary.

Meanwhile, I made up a list of some of the trim lengths and sizes I'd need for the overhead and hatch trim in the cabin, and around the deadlights in the hull forward--about the last bits of trim required in this boat, along with that pilothouse piece. I'd order some more cherry soon so I could get the final trim underway.
---
Total Time Today: 1 hour
< Previous | Next >