Project Log: Friday, August 27, 2010

Continuing with the interior demolition and cleanout, I started in the forward cabin by removing the bifold doors to the space, plus the louvered doors and shelves of the nearby hanging locker. Afterwards, I removed the remaining vinyl liner from the cabin trunk in these areas; it was already loose, the adhesive having failed during the boat's time on the bottom. For the moment, I just cut around ports, fasteners, and other obstructions, enabling me to remove the bulk of the material. I'd get the small remaining bits later. The foam backing was badly deteriorated, and there was mud and silt behind the fabric.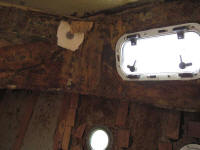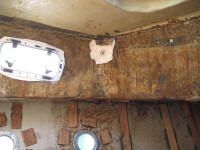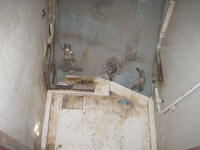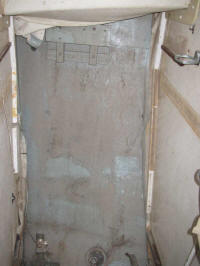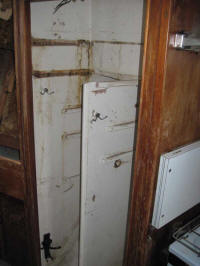 Next: the galley. I didn't like the layout of the original galley, and thought the folding "nav table" and quarter berth at the aft end were complete wastes of valuable space that could (and would) be better utilized. Also, there was clearly mud and silt stuck in all the corners of the galley cabinetry, and the original cabinetry had seen better days.

The galley also included an odd icebox/refer beneath the quarterberth, which didn't look very efficient, and we had other plans anyway. So over the next hour or two, I removed all the galley components, beginning with the old stove, sink, and nearby cabinets. The galley was held together mostly to itself, with only one bulkhead halfheartedly grasping the hull through some thin, failed tabbing. Eventually, and with surprisingly minimal effort, I had cleared the space as far aft as the bulkhead. I also removed some wood trim, curtain rod, and the vinyl liner from the starboard side of the cabin.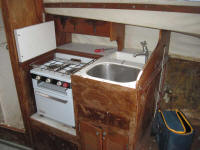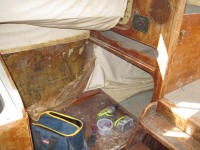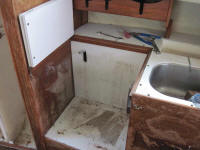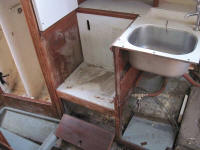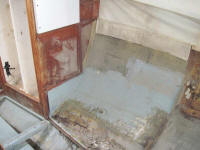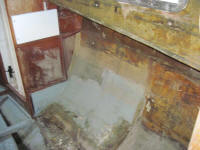 With the galley gone, I turned to the dinette across the way. As in most other places, the vinyl liner was loose and hanging, and needed to be removed. However, the vertical cabinets/backrest behind the dinette had been installed after the liner, and therefore trapped the liner against the deck and hull. In short order, I determined that there was little holding these cabinets, and I quickly removed the backrest assembly in a single unit; I set this aside outside the boat and removed the remaining liner. For the moment, I left the base of the dinette seats in place, though I was already leaning towards simply rebuilding the whole thing with new material (for reasons I'll detail later on). It was good that I did, since the whole back side was coated with silt.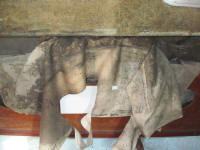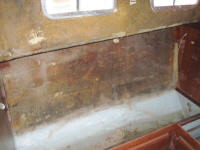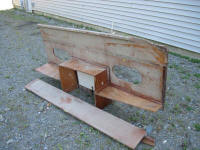 I continued in the pilothouse and attacked the helm console, instrument panel, and wiring beneath. In the time remaining before I had to knock off for the evening, I removed much of the wiring mess behind the helm, including the engine instrument panel. Then, I cut down all the vinyl liner from the pilothouse walls and threw it overboard (not into the water--the boat was on the hard).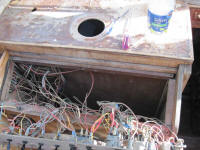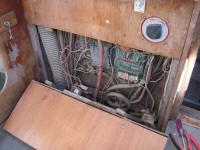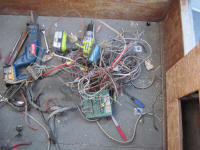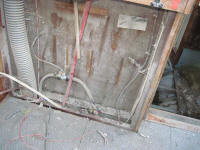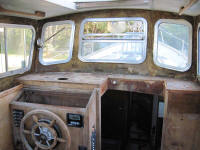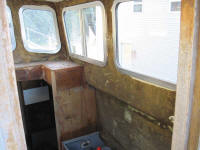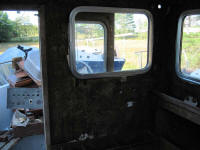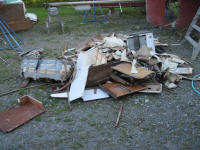 ---
Total Time Today: 3 hours
< Previous | Next >