Project Log: Friday, December 3, 2010

There remained a few small areas covered with Treadmaster nonskid, all in or near the cockpit. I started the day by removing the remaining material, this time with a wide chisel (1-1/2") and hammer, since the areas were small and too confined to use other tools. The chisel actually worked quite well, all the more so considering it was old and dull.

After removing the bulk of the material, I finished up by sanding away the final residue of adhesive and cork. It was a relief to be finally done with this removal process.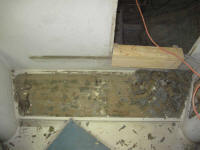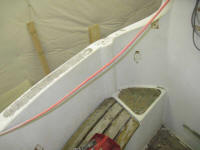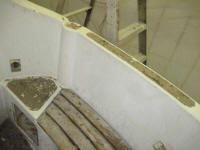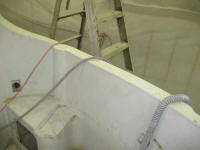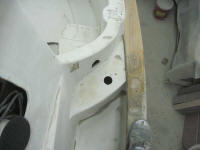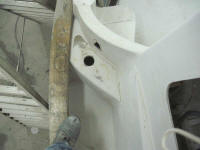 I drilled out the bungs covering the screws securing the teak seat slats in place, then removed the screws and the seats themselves, since they were in the way. My plans for the cockpit called for closing in these open portions anyway, to provide proper lockers and better seating.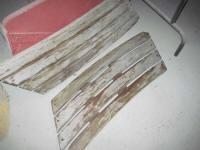 Next on the agenda was to continue the initial deck sanding, starting with the pilothouse roof. First, however, I had to remove two aluminum tracks for the overhead hatch, as well as two wooden blocks at the aft end of the roof that had supported the mainsheet traveler.

With these obstructions out of the way, I sanded the pilothouse roof, edge, and underside of the overhang with 80-120 grit paper. Partway through, my sander--a 5" vertical axis random-orbit finishing sander that I'd had for many years--stopped working, so I had to switch to another sander that I had. The new sander worked fine, and I was able to continue as I'd hoped; still, I ordered a new sander for delivery tomorrow, since I had sanding goals for the next few days of work.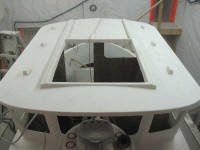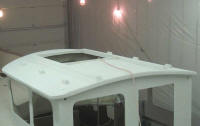 With the pilothouse roof now sanded to 120 grit (tight spots and corners would all get sanded during the next round of sanding, coming up soon), I moved into the cockpit and sanded the aft bulkhead of the pilothouse, again with 80-120 grit paper.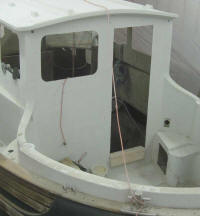 With a bit more time in the day to fill, I sanded the cockpit sole. I spent a little time cleaning up, but didn't worry too much about it since I planned to be sanding more in the next day or two, with the goal of completing this particular round of deck sanding (and more) by the end of the weekend.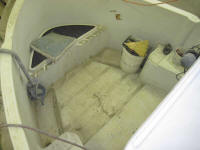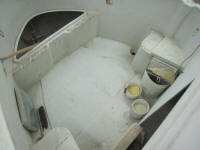 ---
Total Time Today: 5.75 hours
< Previous | Next >