Project Log: Tuesday, December 28, 2010

After spending the first half of the day clearing out after a good-sized snowstorm, I got back to work on the deck sanding. Over the course of a few hours, I sanded the sidedecks, insides of the bulwarks, and the sides of the cabin trunk--first starboard, then port.

For this round of sanding, which I'd begun before Christmas on other parts of the boat, I used a vibrating palm sander and 80-120 grit paper. In addition to the machine work, this was also the time to sand all the corners and tight areas by hand, areas that I'd not previously sanded.

Afterwards, I sanded the foredeck, completing this round of sanding and wrapping up the hole-filling and deck-patching phase of the project, as well as the exterior surface prep phase. I left things messy for the moment, as the boat and shop would require a good cleaning before I moved on to the next steps in the project--something best left for a new day.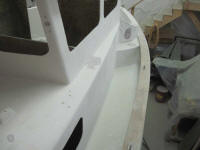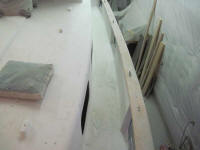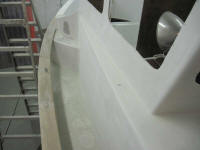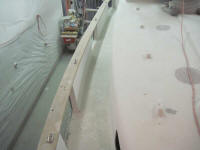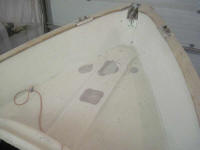 Though I hadn't finalized any plans, I anticipated some structural/layout changes in the cockpit, as I hoped to close in and create storage beneath the seat areas that had been previously covered with teak slats, and also planned to make changes to the propane locker, which was unsuitable as is. I'd begin this work some time later on, but for the moment I planned to shift my focus to the interior of the boat and begin some minor repairs and other preparatory work there.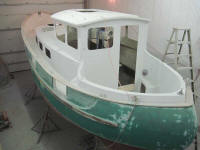 ---
Total Time Today: 3.5 hours
< Previous | Next >