Project Log: Thursday, December 30, 2010

I got sidetracked with other things during the morning, but had time later to work on the interior patches for the boat's myriad through hulls and deck patches, the exterior sides of which I'd recently filled, patched, and faired.

Since none of the interior patches would be visible in the finished boat, the patching process was more straightforward, as there was no need to recess the patches or worry about filling and fairing. Earlier, during the interior surface prep phase of the project, I'd taken the time to prepare the surfaces around each of the old through hulls, so no additional sanding or other prep was required now.

After solvent-washing all areas as needed, I prepared a small batch of thickened epoxy and took care of some minor filling on the inside surface of the filled holes, most notably on the inside of some of the old fastener holes left over from the original seacocks that had featured bolted flanges. While I'd filled these holes from outside, small voids remained inside, which I filled now.

Until recently, I'd had a power cord run into the boat through the old depthsounder transducer hole amidships, so I'd not addressed this particular opening during my exterior patching efforts. However, I'd changed how I ran the cords, so now was the time to start the patch on this opening. I masked over the outside of the hole (I'd already ground out the dished area around this opening much earlier in the process), then filled the hole from inside with my thickened epoxy; since I was focused now on the inside of the boat, I began this particular patch from the inside.

While giving the new epoxy a bit of time to partially cure, I measured each area to be patched, then cut a series of mostly circular fiberglass patches for each opening--two layers of shop-standard biaxial cloth for each, with the second layer slightly smaller than the first in each case.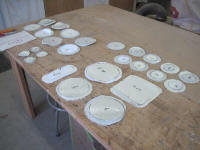 Working in logical stages, I wet out each patch and applied them to their appropriate places in the boat, starting at the bow and working aft.

The foredeck: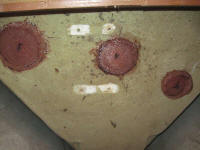 The forward mooring bitt: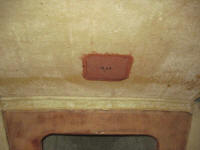 The head through hulls, vent fitting, and overhead Dorade vent opening: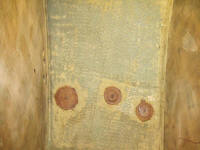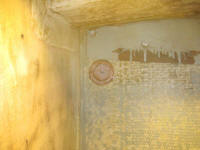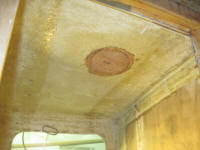 The overhead Dorade vent (aft) and ventilator (fwd) openings in the main cabin: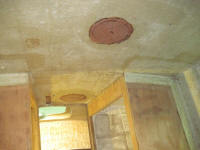 The galley sink drain, depth sounder, and two small holes
I drilled to help drain the boat during the early washdown efforts: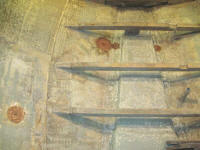 Old waste tank vent fitting in the port saloon: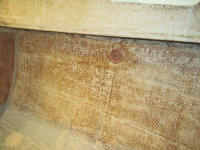 Cockpit scuppers, engine intake, and fasteners from the old Dynaplate: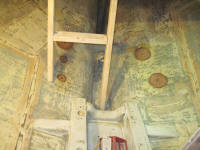 Engine exhaust outlet, LPG locker drain/vent, and old electric bilge pump outlet: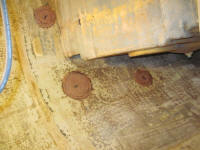 A pair of engine room holes left from fittings I don't even remember: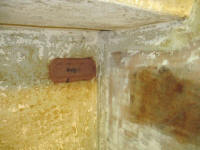 The hole from the engine room air intake vent: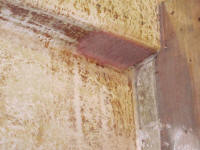 The manual bilge pump outlet in the lazarette: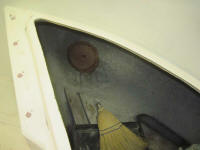 ---
Total Time Today: 4 hours
< Previous | Next >