Project Log: Saturday, September 4, 2010

I continued work on the deck hardware removal. First, I removed the remaining windows from the pilothouse, as well as a few remaining bits of hardware from the starboard side.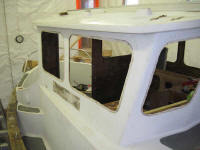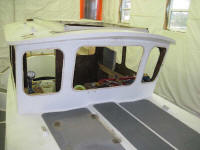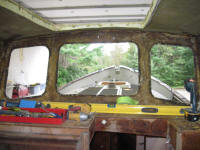 I removed the 10 lifeline stanchions, though not without difficulty. As anticipated, some of the stainless steel machine screws were well frozen into place in the aluminum plates below the caprail. An electric impact gun was the only way to hope to remove these, but unfortunately several of the screw heads stripped off and broke away, leaving the stud buried within the caprail. But the stanchions had to come off, and in any case I'd deal with the leftover studs later.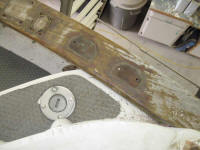 I continued my way forward, removing all the hardware, handrails, Dorade vent boxes, and the forward hatch from the coachroof.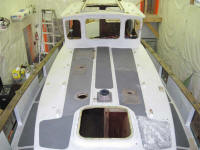 I removed the bow pulpit, leaving one stud behind. I also removed various little bits of hardware, anchor chocks, and anything else I could from the area.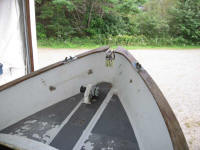 I removed the five original opening ports from the main cabin, plus the two non-original Lewmar opening ports from the forward cabin.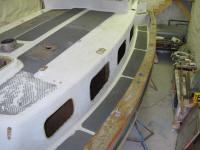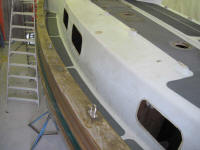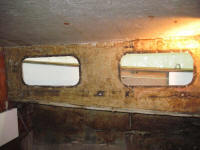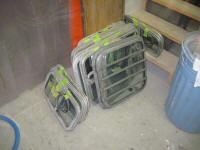 I wasn't sure I'd reuse the Lewmar ports, as they weren't in great condition nor of great quality, and somehow they didn't fit in with the boat, though they weren't as bad as all that either. I'd make that determination later on in any case. These photos show the ports still installed, dating back a week or so.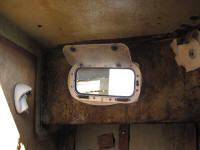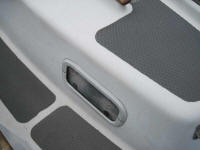 Still ahead for removal was the stern pulpit, plus some other hardware secured to the caprail--cleats, chocks, and the U-bolt chainplates--that I wasn't yet sure whether I'd remove or not. That would depend on how feasible it was for me to reach the bolts within, both for removal as well as reinstallation purposes.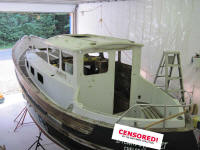 ---
Total Time Today: 5.25 hours
< Previous | Next >