Project Log: Wednesday, September 8, 2010

With a bit of time available after work, I decided to remove the old name, which I didn't like and didn't intend to keep. I could have waited till I began the hull paint prep and simply sanded off the old name, as I often do, but I didn't want the name to keep showing up in pictures.

Using a heat gun on a low setting, I peeled away the thin vinyl lettering on both sides of the transom and used solvent to remove the adhesive that remained behind. This took long enough (about an hour) that I was glad I'd not wasted a "real" work day on the job--a pesky, ultimately unsatisfying job required only for vanity at this stage--but required nonetheless.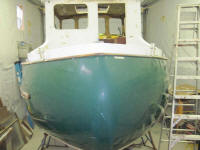 Afterwards, I removed the stern pulpit, which was pleasantly easy. One screw spun off its head, but the remaining 7 came out with relative ease. Frankly, I'd expected more of a fight based on my experiences with the 10 stanchions and the bow pulpit, which was perhaps the reason I'd refrained from attempting the stern pulpit late in the day last Saturday. Removing the pulpit took only a couple minutes.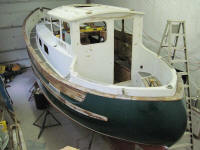 ---
Total Time Today: 1.25 hours
< Previous | Next >