Project Log: Thursday, June 23, 2011

Continuing towards the goal of completing the V-berth platform, I water-washed and sanded lightly the tabbing securing the support blocks along the hull, at the edges of the platform, as well as the tabbing securing a tankage platform to the hull beneath the berth, which I'd installed a few days earlier.

After cleaning up, I painted out the forward sections of the hull that would soon be hidden by the platform, but accessible through small access hatches later. I left the large after compartment unpainted for now, as I could reach it from the large access hatch later, and planned on additional work there before I could call it complete.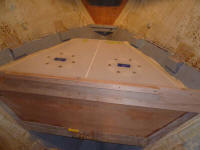 I installed the two sections of V-berth platform in epoxy adhesive, beads of which I applied to all horizontal bonding surfaces, including the cleats at each end and a support cleat down the center to help hold the seam between plywood sheets together. I drove bronze screws to secure the platform while the adhesive cured.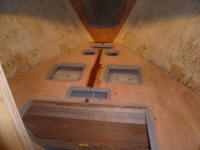 Next, I applied a small epoxy fillet to the gap between the platform and the hull along the sides, then a layer of 4" tabbing set in epoxy to attach the platform securely to the hull.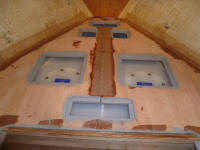 Much later in the day, I completed the tabbing by installing sections of fillet and tabbing beneath the platform, along the edges in the large aft compartment.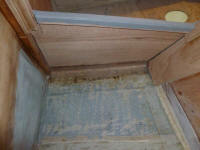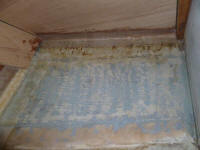 With the major construction complete in the forward cabin, I turned to the cherry veneer in the passageway. These sections were straightforward to measure and cut, as the bulkheads surrounding the head opening (port) and storage locker (starboard) left only small sections to cover with cherry, and much of the area would later be covered with additional trim pieces as construction continued.

After cutting each piece and checking the fit, I lightly sanded the new plywood and, down on the bench, applied a sealer coat of varnish.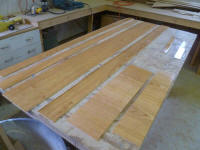 ---
Total Time Today: 5.75 hours
< Previous | Next >