Project Log: Monday, December 31, 2012

Picking up where I left off, I continued work on the pilothouse overhead, now with the templates for the forward halves of the overhead--those on each side of the large hatch opening, and extending forward.

The angles and various pieces of trim at the forward edge of the space meant that I needed to use lots of small, pointed segments of template material to approximate the shape.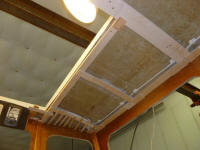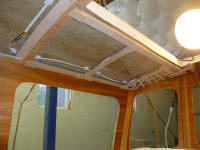 Next, I began transferring the patterns to more of my overhead material, beginning with the port forward section. Because the panels were fairly small, and the curvature of the overhead more dramatic here, I decided to saw kerfs in the back side of the plywood to help it bend into position.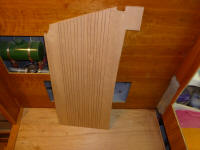 I left the overhead panel slightly oversized to overlap the hatch opening. Once I'd dry-fit the panel in place with a few screws and a brace, I marked the edge of the opening with a metal ruler held against the molded edge above, which was not perfectly plumb or straight.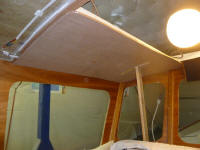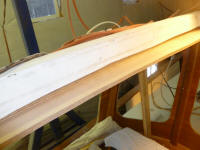 Removing the panel, I cut the excess off to my layout line, then reinstalled the panel. During a later trim stage, and when the overhead was complete and permanently installed, I'd trim the inside edge of the hatch opening as required to hide the molded section and the plywood edge.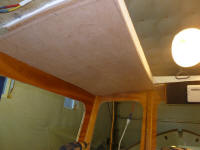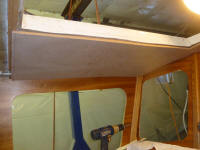 I repeated the process with the after section on the port side, which I deemed enough overhead work for the day; I'd pick up with the starboard side next time.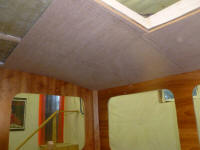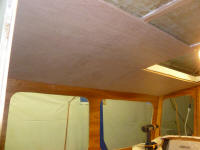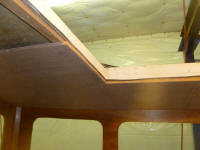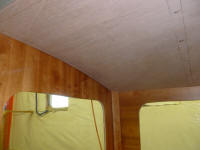 In the forward cabin, I sanded and applied another coat of base varnish to the bulkhead and cabin trunk.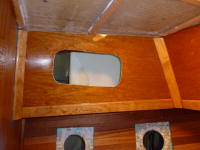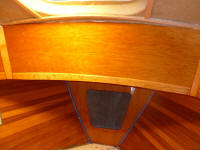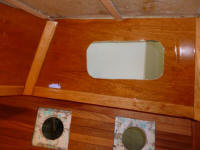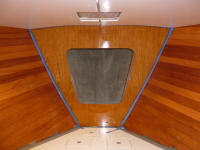 ---
Total Time Today: 5 hours
< Previous | Next >