Project Log: Friday, July 6, 2012

With seemingly a good weather window coming up in a few days, I continued early preparations for the mast painting. There was still unsanded epoxy over the filled screw holes, so I sanded that smooth and also sanded all surfaces of both spars. Since the masts were in good condition, I planned to follow the simplest product application possible, using Cor-Spec 135 primer followed (within 3-24 hours) by the final topcoats, and this approach called for sanding with 180 grit paper, since the chromate primer was a very thin coating that wouldn't fill deeper sanding scratches. Other than timing and weather-related issues, I'd had excellent adhesion and longevity using a similar aluminum system from Awlgrip in the past.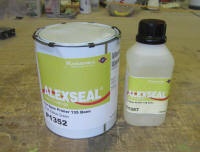 The aluminum would re-oxidize over the next day or two, so I'd have to sand again, but I felt that the initial sanding all over was worth it since it would make the final sanding quicker and easier. The remainder of the preparation and painting system would include a new sanding followed by chemical etching and conversion coating, followed by a single coat of the Cor-Spec primer. After this, the topcoats could go on directly over the primer, starting after minimum three hours and up to 24 hours after application (without a need to sand or repeat any previous steps). So I hoped I could complete all the steps in a single day, but held out the possibility of doing the finish coats the next morning if needed. This is why a minimum two-day window of clear and dry weather was desirable.

Not sure why my camera is washing out some (but not all) photos with that bright blur, but there you are.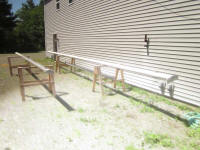 ---
Total Time Today: 3 hours
< Previous | Next >