Project Log: Sunday, November 25, 2012

Picking up where I left off, I began by tracing the pattern for the starboard main cabin overhead on a new sheet of plywood; then I cut it out, creating two sections to match the port side.

I test-installed the after section so I could mark the overhang in the companionway opening; then I removed the panel and cut along the lines as needed before reinstalling it.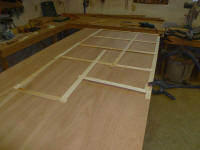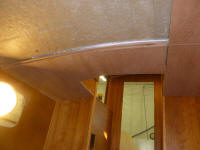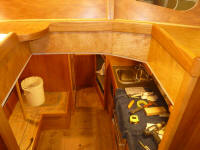 On the port side, I removed the forward section and cut out the hatch opening that I'd marked earlier, then reinstalled the section to check the cut.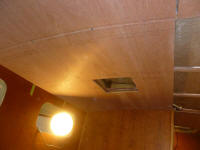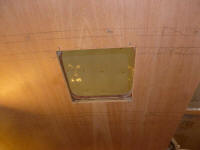 Next, I dry-installed the forward section. Shortly after I installed it, the power went out, which is why no lights were on in these photos. I went ahead and marked the location of the overhead vent hatch so I could cut that opening. Frustrated, as I'd only been at work for about an hour, I was preparing to pack up and go home, since there was little I could do, when the power came back on after about 10 minutes, so fortunately I could continue work.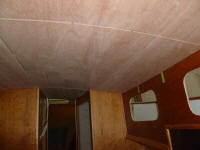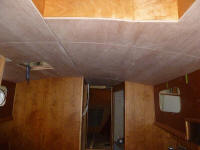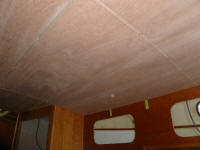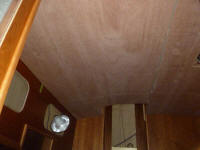 Removing all overhead sections, I made the final cut on the starboard forward section (for the hatch opening), then prepared all the sections for primer by lightly sanding and cleaning up the edges as needed. Then, I applied primer to all sides of the overhead sections. The small holes in the large overhead panels are where I planned to install overhead lights; the hole would allow passage of the wires.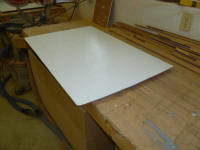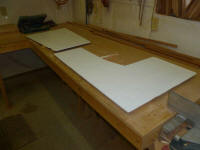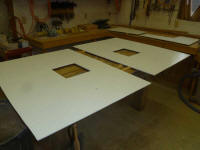 Back in the boat, I applied another coat of tung oil to the forward cabin ceiling, then, after masking as needed, applied a coat of primer to the forward berth surface, along with the dinette seating areas, removing the hatches so I could paint them down on the bench. With the interior reaching certain levels of "done-ness", I was just tired of looking at the raw, stained plywood, and decided now was as good a time as ever to paint these areas, inspired also by the fact that I had paint and primer in use elsewhere.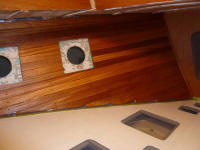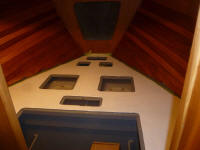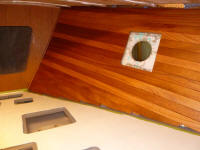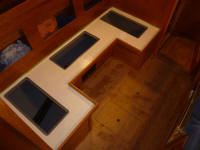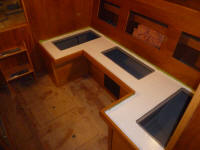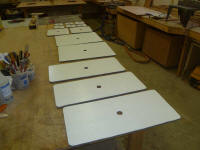 Finally, I sanded the forward overhead panels and applied a second coat of the semi-gloss enamel.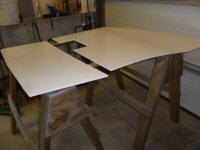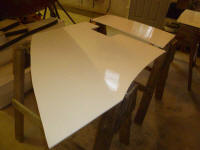 ---
Total Time Today: 5.5 hours
< Previous | Next >