Project Log: Tuesday, April 15, 2014

Along with some continued varnish work on the head door and trim--closing in on the final coats--I worked in the large starboard locker (formerly known as the hanging locker) to terminate the remaining raw wire ends of several cables I'd led there earlier. Two of the cables were essentially spares, though one would be used to connect a shower sump pump. The other two cables would ultimately service cabin lighting and fans.

I used three terminal blocks to terminate the wiring: one each for the lighting and fan circuits, which would later accept multiple additional wires leading to the individual fixtures themselves; and a third for the two spare circuits, to which I'd connect the conductors leading to whatever was needed.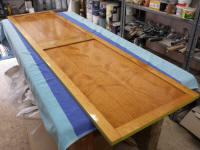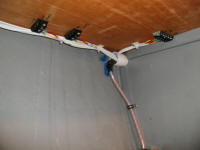 It felt good to clean up the long coils of wire that had been cluttering this locker, and now I just awaited the final installation of the fixtures whenever I purchased them.

---
Total Time Today: 1.75 hours
< Previous | Next >