Project Log: Sunday, March 2, 2014

I continued work on hardware installation with the bow chocks. Since the existing (Metric) fasteners were in good condition, I chose to reuse them, and in the original holes.

Installation was pleasingly quick and pain-free. I applied sealant beneath the metal chafe plates, then installed the chocks with their fasteners, which extended into tapped holes in aluminum plates beneath the caprail.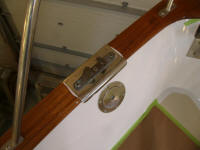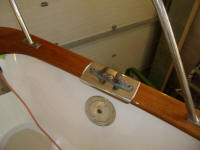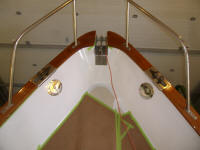 At the stern, I installed two mooring bitts. Here, I slightly offset the bitts from their original locations, since I knew there was at least one broken-off bolt stud remaining in the old holes. I drilled and tapped for new fasteners, and installed the bitts and their chafe guards with sealant.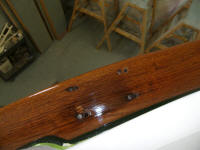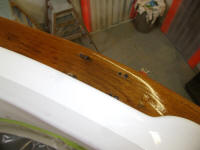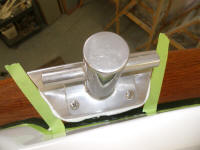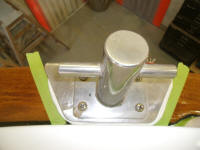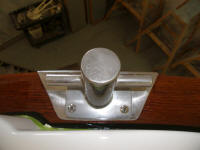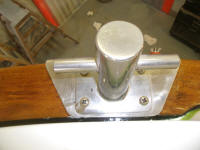 The forward mooring bitt had been pulled right through the deck during recovery efforts following the sinking, according to the previous owner. The old fasteners were still stuck through the fitting, and I had to cut them off with a grinder.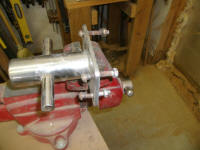 Way back when, I'd repaired the damaged foredeck, filling the ragged fastener holes with solid fiberglass and patching over both inside and outside; I wanted to install the fitting in the same place, and with the fasteners through the plugs of solid fiberglass. I'd meant to mark the locations of the old holes on the deck before painting, but in the flurry of activity surrounding that job it went by the wayside. But I could still make out the general location of the patched holes from the inside. So after more or less guessing where the centers of those areas were, I drilled a small pilot hole up from beneath, giving me a register on the top side to locate the bitt from there.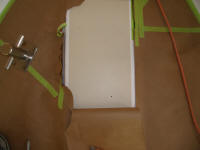 The drill spoils were shredded G-10, so the hole was clearly in the right spot. I aligned the bitt according to this hole, and masked around it. Belowdecks, I stuck my fiberglass backing plate (12" x 12" x 3/4") in place with hot glue, just to hold it (dedicated readers will remember that I planned a space for this when installing the headliner in the forward cabin), then drilled and tapped my fastener holes from above, through the deck and the backing plate too. Then I installed the bitt with sealant and new fasteners; I'd cut off the excess fastener length next time I had the grinder in the boat, and, sometime, I'd trim around the backing plate when I did the rest of the overhead trim.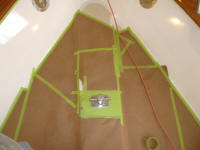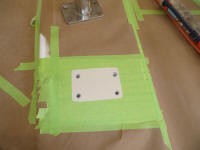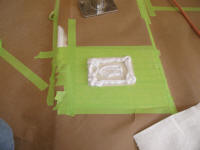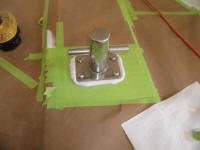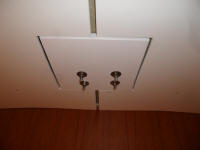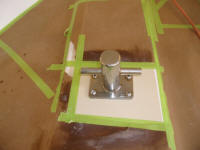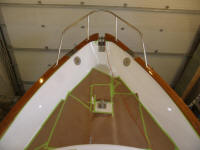 Next I turned to the final running light installation.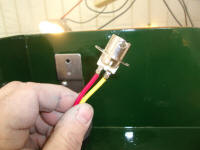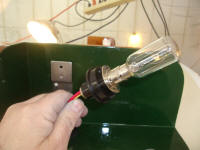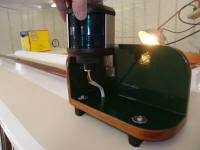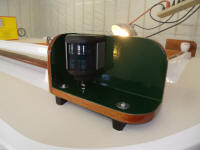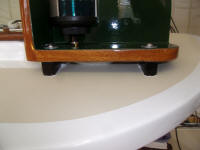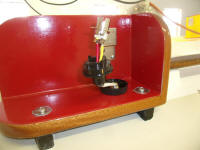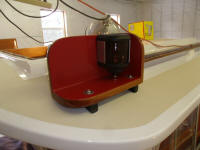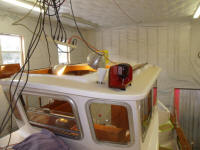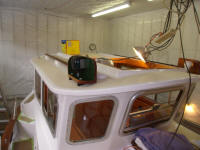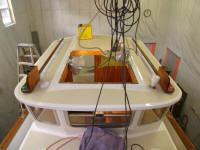 Finally, I chiseled away the excess bungs from the handrails and varnished the raw wood. I'd continue varnish work here and elsewhere soon.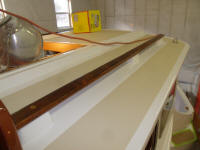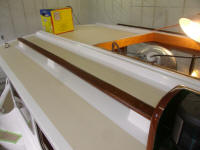 ---
Total Time Today: 5 hours
< Previous | Next >