Project Log: Thursday, March 6, 2014

After running an errand to pick up sheets of white Formica to continue the head construction, I got to work on the three new panels, preparing them for contact cement and, eventually, the Formica itself.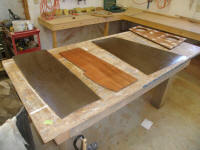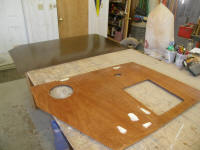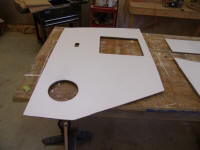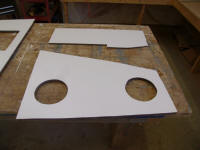 While waiting for the contact cement to tack before assembly, I took care of a couple little things, including cutting and installing black plastic covers to hide the wiring beneath the running light boards.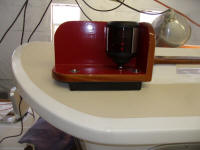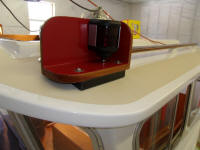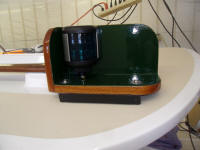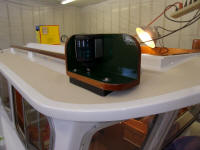 After assembling and trimming the head panels, I test fit them in the boat before continuing.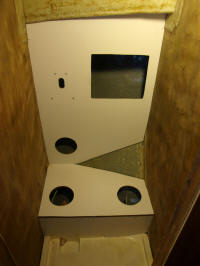 Before final installation of the panels, I installed 1-1/2" hose to the head discharge seacock, running it forward into the utility space where the treatment system was located (I'd connect the other end later). No more of that miserable white hose for me: this heavy wall, wire-reinforced sanitation hose was much better to work with, and more flexible despite its larger outside diameter, and I planned to use it for the entire installation.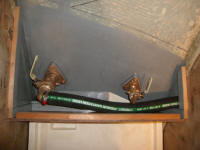 Much earlier, during another phase of the project, I'd led two wire runs into the head, dead-ending them for future use for lighting and fans. To make future connections easier, and taking advantage of the easy access for the moment, I terminated these two circuits on a pair of terminal strips that I had on hand. Later I could wire the appliances to these strips easily.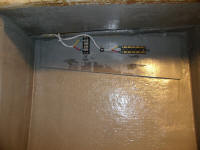 I installed the round access hatches in their respective holes, using sealant and screws. For the vertical panel, I chose a simple screw-in hatch. I test-fit the upper locker access door, but for better access within I left it off for now.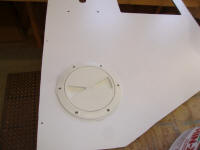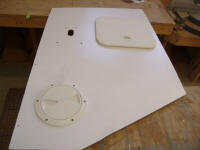 For the two seacock access ports in the head platform, I selected turn-lock covers for easy and regular access.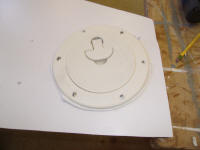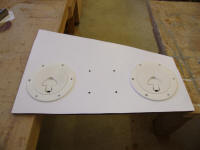 For final installation, I started with the short vertical panel beneath the head platform, securing it with screws only to make it (and the shower pan beneath) removable. Note that I expected and planned no need nor desire ever to remove these features, but it seemed prudent to allow for the possibility in the future in any event.

Afterwards, I secured the head platform in epoxy adhesive, using hot-glued blocking on the sides to clamp the panel securely, and attached the upper panel with epoxy and screws. I wanted these panels to be stiff and well-adhered to better support the head, and the pump action in the vertical panel. Eventually, I'd seal off all the seams between various panels and the adjacent bulkheads (when complete) with waterproof caulk.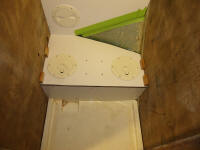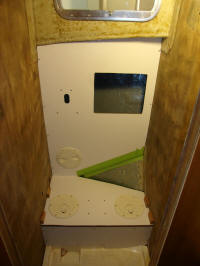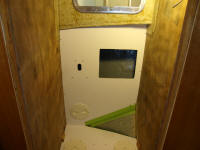 ---
Total Time Today: 7.5 hours
< Previous | Next >