Project Log: Monday, March 24, 2014

With a bit of time available at the end of the day, I cut pieces of Treadmaster to fit the two battery box covers, and installed the nonskid treatment with epoxy.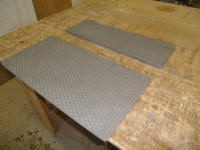 Now that the engine hatches were painted, I went ahead and installed the sound insulation with screws and large washers. I might go back and add additional fasteners for more support, though in the current configuration the insulation seemed well-enough secured, but since the natural orientation of the hatches would have the insulation constantly pulling directly against the fasteners, a few more might be prudent to hold the weight of the dense sound insulation.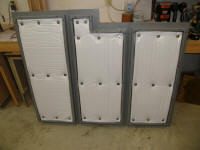 For now, I reinstalled the hatches in the engine room, where I could already sense a difference in the sound quality just by walking around. After a while, I'd check out how well the insulation seemed to be staying in place when suspended upside down and re-evaluate whether to install additional fasteners.


---
Total Time Today: 1 hour
< Previous | Next >