Project Log: Thursday, May 14, 2015

The next step as I looked to finalize the mast work was to install an angled rail base over the wiring exit. This would provide a cleaner appearance and give a place for a hose to be secured, through which the wires would run to the fitting in the deck leading to the junction box. After marking, drilling, and tapping the holes, I secured the base with four screws, and secured the excess wiring. Those wires would be trimmed to length later, once the mast was stepped and the connections could be made.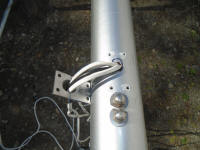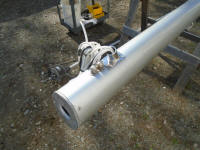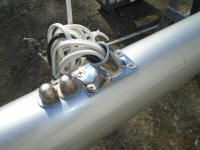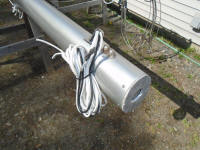 The final hardware to install for now was a winch on each side of the mast, for main and genoa halyards, and three cleat for those two halyard, plus a spinnaker halyard.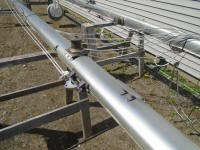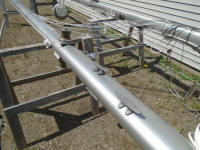 On the starboard spreader, I installed a pair of strap eyes containing small blocks for a flag/radar reflector halyard.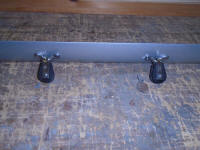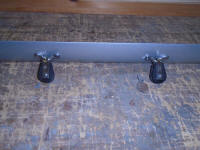 The owner renamed the boat, and I spent the afternoon removing the old name and installing the new one.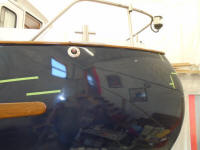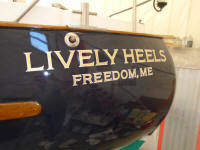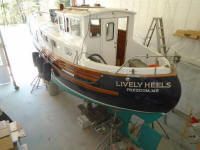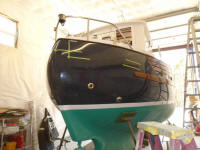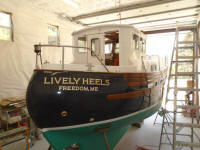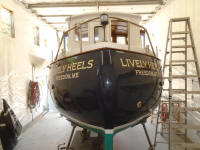 The round, molded winch pads in the cockpit were small, with limited room within, so that limited the choices of winch. We weren't even sure the chosen winches, Andersen 18STs, would fit, but ordered them to check. Fortunately, the bases fit well, and the bolt patter was such that it looked like I'd be able to effectively install them as needed. It was too late in the day to get into the real installation, but I used the supplied base templates to centerpunch and mark the bolt holes for next time.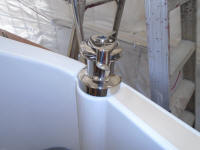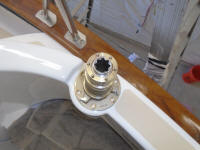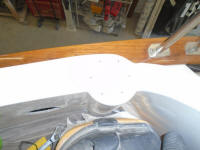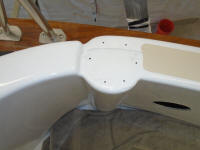 ---
Total Time Today: 6.75 Hours
< Previous | Next >